Okay but seriously you guys, who else is bringing you stories like the ones I bring you? If you don't follow my Jide Okonjo Facebook page yet, you're dulling. Everyday is lamba on there. Follow along so you don't miss out on interesting stories I bring you everyday.
Today's story is one that happened and completely flew past the radar of everybody because of how subtly it was done. In fact, if you don't watch the show Jenifa's Diary, there is no way you would know about the story.
Luckily for you, I religiously follow that show so when this surprise happened, I just knew I had to come and tell you guys about it because it was honestly so trippy to watch.
Are you ready to get into it, then let's go!
**Before reading on, please make sure to like and follow my Facebook page (Jide Okonjo) so you don't miss out on any new and interesting lists, articles, and stories that I post every single day. I have a really fun page. If you like my page, you will have fun too. So what's stopping you? Like my page and let's have fun together!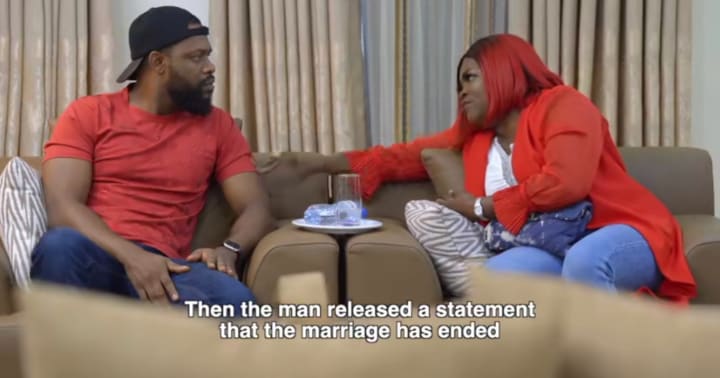 Season 24, Episode 8 of Jenifa's Diary opens up with the character of Jenifa giving another character, who is beating himself up about a mistake he made, advice about mistakes.
Speaking to the character, Jenifa shared a story which I have translated from Jenifa-English to normal English for clarity sake. She said:
There is this celebrity, I won't mention her name but you can guess. She always replies my DMs. She doesn't know me o, but she's a very friendly person that regards her fans. So there was a time in her life things went down – that time I was always sending prayer texts to her and encouraging her that everything will be okay. Because society. She married late. At that time people would always say, "You no go marry?", even fans would comment on her posts "Go marry. Metuselah." She got worried, and then went to marry in a hurry.

But the man had selfish interests. The man didn't love her 100%. Yes. He tricked her into marriage, and she that was in a rush. Person wants to die meets person that wants to kill her – kpam! She was now married, by force.

Okay fast forward. Inside the marriage, she started to have a lot of ups and downs. The man would talk to her anyhow, verbal abuse. She was worried. Things weren't going well. After some time when things didn't go the way the man planned, he started to vex.

The man started threatening her that he would leave the marriage because she is the one that would lose because she has a name. The woman got frustrated. She would go to work and be thinking. Things weren't going well.

Fast forward, the man then went to social media and went to write 'My marriage to her has ended.' The woman saw it when she was acting on a production set, it was there she saw it on social media.

She started crying, "Why would you do me like this? I have reputation. People will say why did your marriage crash? You're a role model. Write that they hacked your account."

He said, "Shut up. Which account that they hacked? You, I bring you down. Sheyb you want to be stubborn."

The woman kept on crying. Endorsements, different things that she had, came crashing down. She fell back to square one.

But by the grace of God and by the fact that she allowed things to go, she got back to number one. Endorsements that they took from her came back. She was back at number one.
At this point in the story, it was still vague who the celebrity she was talking about was. Then the other character in the show said:
Wait, I think you know who you're talking about?
To which Jenifa said:
Yes. That actress that now has twins. A boy and a girl.

She remarried.
At this point, with the handshake that they both shared, and the description of the actress, it was very obvious that Funke was talking about herself. She then finished up her story by saying:
If she allowed her problems to weigh her down, her career would have ended. She pressed up, worked hard, prayed. If she allowed it affect her health, she would have been sick. So you see, never let anything bring you down.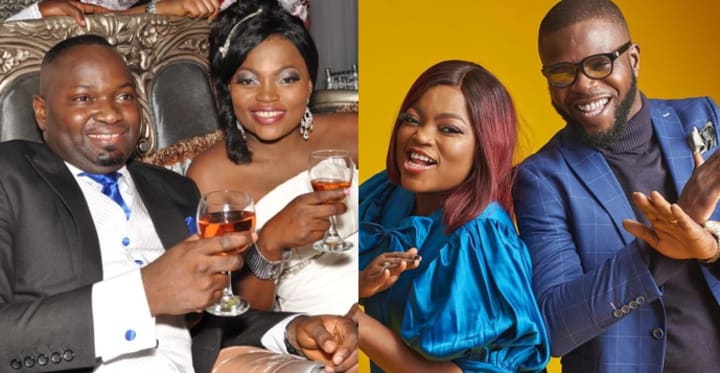 I wish I could show you the clip from the episode but for obvious copyright reasons, I cannot rip it and show it to you. It is a very interesting episode though and if you'd like to watch it, you can catch it on Funke's streaming platform Sceneone TV.
To watch